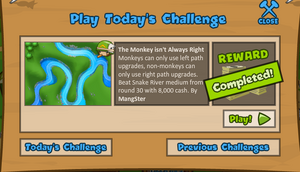 dart monkey: better in btd5(triple darts)(juggernaut)
tack shooter : better in btd5(blade maelstrom ability is awesome!
boomerangers :better in btd5(bionic boomer)
bomb tower:better in btd5
ice tower: better in btd5
glue gunner:better in btd4
mortar tower better in btd4
Returning
Edit
Challenges
Edit
Challenge 1 Pass Warp Track on Medium with only Warp Towers!
Challenge 2 Pass Fireworks on Easy with only Firework Towers!
Challenge 3 Defeat 50 Moabs with $50000 on Moab Track
Challenge 4 Pass Circles without losing a single life!
Challenge 5 Defeat 50 BFBs with $100000 on BFB Track
Challenge 6 Defeat 50 Zombs with $150000 on Zomb track